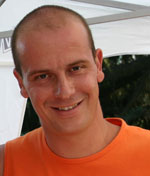 Curriculum Vitae:
Gianluca Bonomo
EDUCATION
Turin University, Italy, teaching science, degree in Multimedia, art, and music discipline.
EMPLOYMENT HISTORY
Data management for telephone company in Torino, Alessandria, Asti - january 1992 - february 1993.
ICT managing for Carabinieri service in Genoa from april 1993 to december 1993.
Cad designer in Turin from january 1994 to september 1995.
Office Automation teaching in Ciriè (Turin – ITALY) from october 1995 to july 1996.
3D graphics teaching in Information and Technology center "Ghiglieno" in IVREA (Turin – Italy) from 1996 to 1999.
Office Automation teaching to "A.Sada" school in Rivarolo (Turin – Italy) from october 1997 to february 1998.
"Web interface project" teaching at CSEA "G.Guazza" center in Turin in june-july 1999.
Autocad 2000 teaching to C.I.A.C. school in Ciriè (Turin – Italy) from november 2000 to june 2001.
European Computer Driving License teaching to "Casa di carità - Arti e Mestieri" center of Castelrosso-Chivasso (Turin - Italy) from year 2004 till now.
Introduction to computer, Office automation, Internet and web managing teaching to "Salotto e Fiorito" school in Rivoli (Turin – Italy) from 1999 till now.